ADM Mile Maker Asphalt Plant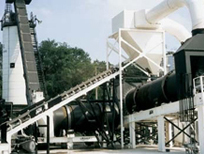 THE MILEMAKER SERIES REPRESENTS THE LATEST TECHNOLOGY IN PLANT DESIGN. THE 160 TO 425 TPH PLANTS ARE THE FIRST CHOICE FOR CONTRACTORS WHO LOOK FOR HIGH VOLUME PRODUCTION AND FIELD PROVEN PERFORMANCE AT THE LOWEST COST PER TON OF ASPHALT.
This exciting concept in counter flow technology employs separate drying and mixing zones for maximum heat transfer and fuel efficiency. This enables the Milemaker Series to generate high production rates - up to 425 tph while virtually eliminating environmnetally unsafe hydrocarbon emissions that are common with other drum mix plants. Because all of the blending takes place in a separate mixing drum far away from the burner and combustion zone, other additives, including recycle, can be introduced avoiding temperature reduction and unfavorable emissions.
To make the Milemaker Series even more environmentally friendly, ADM designed this system to reintroduce the residual gases back to the drum's combustion zone. This combined with the Milemaker's capability to provide high recycle percentages and fillers to the mix in a separate drum makes it ideal for SuperPave and other high specification mix designs. The Milemaker's unique ability to provide less fracturing of the aggregate and lose of fines in the airstream enables conractors to meet exacting tolerances time and time again.
The Milemaker features include: Affordable, ruggedly constructed, reliable, easy to operate, asphalt plant availabe in portable and stationary systems The longest aggregate drying and mixing times in the industry The Milemaker Series performs extremely well on environmental testing - "we guarantee it" Very low cost per ton production Separate mixing drum allows asphalt, recycle, and other additives to be introduced away from the drying and combustion zones eliminating unfavorable emissions Simple plant design allows operation by one plant operator and one loader operator Control and loadout systems are completely independent of each other The Milemaker Series is extremely portable only requiring 7 to 8 loads. It can be set up and prodicing asphalt within a week Processes high percentages of recycles