ADM Road Builder Asphalt Plant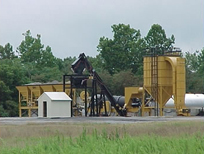 THE ADM ROADBUILDER SERIES - 110, 160, 250 & 350 TON PER HOUR ASPHALT PLANTS. WHILE SOPHISTICATED IN IT'S ABILITY, THE SIMPLICITY OF OPERATION AND MAINTENANCE MAKES THE ROADBUILDER A COMMON CHOICE FOR ALL CONTRACTORS.
ADM's first though in the design of the Roadbuilder Series was to give contracors all over the world a reliable, user friendly, easy to maintain, truly portable asphalt plant that enhances the contractor's competitive advantage in both large and small markets. Designed with four different drum diameters of 62 inches, 72 inches, 84 inches, and 96 inches, the Roadbuilder Series produces anywhere from 110 to 350 tons per hour of quality asphalt mix. Our parallel flow system maximizes heat transfer by moving moisture laden aggregate in a rotating veiled pattern with our proven flight design away from the fuel efficient burner.
The Roadbuilder Series asphalt are available in these production sizes: 110 tons per hour (100 metric tons) 160 tons per hour (145 metric tons) 250 tons per hour (227 metric tons) 350 tons per hour (320 metric tons)
The Roadbuilder Series features include: The Roadbuilder Series produces the lowest cost per ton of any parallel flow asphalt plant in its class because of its incredible fuel efficiency and low maintenance cost Portable plants with quick start up and easy installation designed to have you up and running in a few days Standard parts and components for easy quick repair minimizing downtime User friendly controls that are easy to operate with individual processors to keep the plant operating efficiently Minimal man power needed - usually one plant operator and one loader operator Accuracy second to none, precise control of liquid A.C. content, aggregates, and additives Complete Roadbuilder Series includes - conveyors, silo systems, A.C. tanks and either baghouse or wetwash systems, plus many other options